CrewLocal is an advanced suite of cloud technology modules for Crewing / Membership management of Film Technicians. It is fast becoming the solution of choice for film technician union locals across North America.
CrewLocal holds all of your member profile information and features multiple optional modules including: dispatch, availabilities, dues billing and payments, remittances, training and certifications, online applications, mass emailing, elections, and more.
A web-based mobile-enabled cloud-powered solution, CrewLocal has been designed using best practices employing state-of-the-art technology.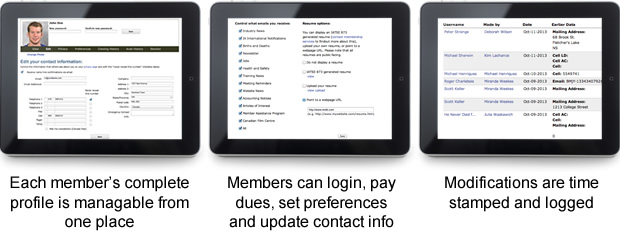 Tailored specifically to the needs of film technician locals, the CrewLocal solution offers sophisticated multiple role access for:
office administrators (full administrative control)
members (make themselves available, confirm calls, update their contact details, register for training, update their resume, control communications preferences, vote in elections, post a  classified ad, read member news, read executive meeting summaries, etc.)
permits (make themselves available, confirm calls, update their contact details, register for training where appropriate)
applicants (submit applications online, update their contact details)
producers (generate availability lists, view relevant contracts)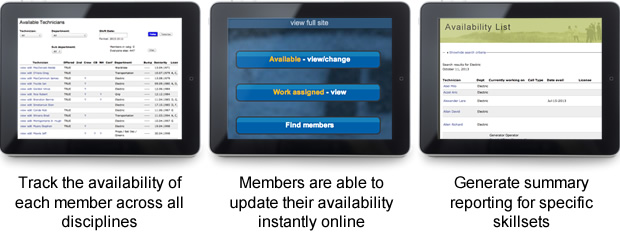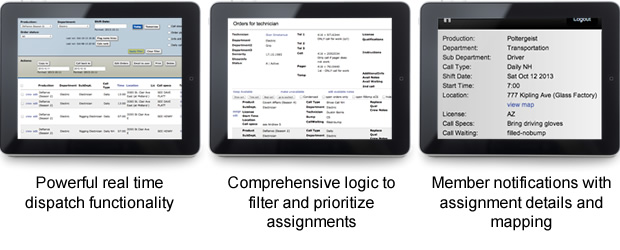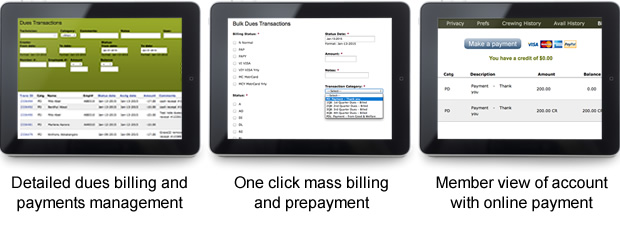 RealTimeSyncing
Crew Local is a fully integrated system that reflects changes in real time. Especially important when utilizing dispatch and crewing, as a member's availability is instantly captured and status is updated immediately on dues payment.
RemittanceAuditing
Tracking discrepancies, auditing fringe benefits or identifying unauthorized personnel is easy with the remittance auditing functionality.
TrainingCertifications
Training schedules, payment and registration, pass/fail tracking, certification management (including expiry dates) is all included in this powerful module.
OnlineApplications
Driving your applications through an online process ensures that only fully completed applications from pre-qualified candidates are reviewed, resulting in huge administrative time savings.
MassEmails
Need to urgently reach a particular skillset, notify everyone about an event, or clarify recent changes? Mass emailing directly from your membership directory with complex filtering ensures that you can easily reach the people you need in an instant.
VotingElections
The Elections module supports candidate profiles and membership online voting with built in audit controls.